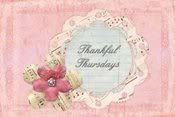 My senior year of high school I took a class called "Short Stories and Death". To this day this class has had the most impact on me, more so than any college course. My teacher, Mrs.
Moone
, had us keep a gratitude journal and each day we would have to write down things we were thankful for. At first I thought "oh,
puhleez
!" but after just a week of doing it I realized it's purpose. I even bought my mom a gratitude journal for Christmas one year because I thought it was so inspiring. I kept up with my gratitude journal for a little while and then it sort of fell to the wayside. SO now I am starting Thankful Thursdays. Each week I will share a list of things I am thankful for and hopefully inspire some of my readers. Enjoy.
I am thankful for my wonderful Future Mr. He came into my life just when I needed him and I will forever be grateful to him.
I am thankful for my job. I have had some really crummy jobs in the past and I am so happy to have a job I like, especially in this economy.
I am thankful for blogs like Oh She Glows, Eat Live Run, and Operation Beautiful-all of which inspire me to become the best person I can be.
I am thankful for all my girlfriends. We are having a girls night tonight and I am so thankful to have such a wonderful group of ladies to be able to do this with.
I am thankful for my soon to be in laws. They have welcomed me with open arms and truly treated me like a member of their family since day one.
I am thankful for blueberry vodka tonics. I seriously don't know what I drank when we went out before these came into my life. YUM-BO!
I am thankful for hot summer days. I know a lot of people think the heat is miserable but I could live in it year round.
I am thankful for my

achy

body today because it means I had a really good workout yesterday.
I encourage you to think- What are you thankful for?