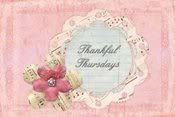 Today I am thankful for:
Church. We have decided to get some more of it into our lives and I really think it's going to pay off.

My seamstress. Met her, love her!

My PITA neighbor who always steals everyone's parking spots b/c it reminds me that I have two capable legs that can walk.

My wonderful BFF/MOH for doing my amazing invitations for all my wedding related events, she's the best and a total life-saver.

The clean eating diet cookbook b/c I am trying so many different recipes that have been AWESOME!

Future Mr's friends. They are so completely different from my friends (my friends are all "grown up", married, have kids, have jobs and his friends are still wild partiers). They keep me on my toes and remind me to have fun while I can :-)

Peanut butter cookies. I made a "healthy" version this weekend and Future Mr won't stop talking about how good they are.

Warm weather. I went to the store the other day and saw they had fall stuff out already and it made me sad, I love summer!

My online friends. I feel like I know some of these girls and they are like my BFFs and I have never even met any of them in person.

Online Christian radio stations. I have a SUPER annoying coworker and it's so nice to put this on and pop my headphones in and bring me back to calmness.
Future Mr for training Miss Chanel to be a good girl.
Pizza. Now that I am on this clean eating I don't eat pizza nearly as much as I used to and we had it last night and it was YUM-BO!
What are you thankful for?