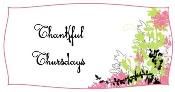 I am thankful for:
Wedding vendors who know how to communicate properly. Photographer= excellent, cake lady= awesome, reception site= great, florist= SUCKS!

My future mother-in-law. She's great. Couldn't ask for better. <3 align="left">
My pups. I missed them so much while we were in OK this weekend. I love that no matter how long we are gone they are always happy to see us.
My fabulous bridesmaids. They are starting to get excited for the wedding events coming up which makes me so happy! I can't wait to spend next weekend with them.
DVR. I don't know what we did before these things but knowing that I can count on it to record my shows even when I am 1000 miles away makes me very happy when I come home.
Pasta. My trainer wants me to cut it out but I CAN'T! I love it. I'd eat it every night if I could.
Bubble baths. I am totally loving taking a bubble bath with a glass of wine and a good book. Is that weird?
Scrapblog. That's where I get all my ideas for the blog. Like my new layout and TT button?
Morning Star Farms spicy black bean veggie burgers. OMG LOVE THEM! I eat one every day for lunch, seriously. I made the mistake of trying the tomato, basil, mozzarella pizza burgers and THEN got them again on accident (miserable) but now I have my spicy black bean back and I DIE!
What are you thankful for?