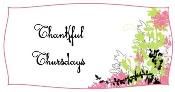 Today I am thankful for:


The best girlfriends a girl could ask for! I cannot wait to spend the entire weekend with my girls, we are going to have a blast!
My job. We are going through a BIG transition here and I just hope and pray that it doesn't mean mass layoffs or anything scary.
Dishwashers. Ours is STILL broken so I am STILL washing dishes by hand, not fun.
Reading. Future Mr loves loves loves reading and he is a fast reader and sets reading goals for himself which makes me want to read more. I have read more books this year than I have in all the other years combined. Currently reading: sTORI telling by Tori Spelling, it is HILARIOUS!
Sunday Fundays. We had a blast this past Sunday at the bar/pool with Future Mr's friends. They always know how to have a good time and I always appreciate their carefree-ness.
My new vacuum! OMG it's amazing to say the least!!! You can't even tell dogs live here now!
Luna bars. Yummy! And I never knew they are made for women?! Perfect post-workout, mid-morning snack!
What are you thankful for?