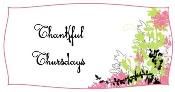 This week I am thankful for:
Future Mr's determination. I mentioned painting the bathroom for a split second and what is he doing? Painting. It's going to look so much better than that STARK white! YUCK!
My wonderful seamstress. Met with her last night and she's just fabulous. She is absolutely in love with my dress and always makes me feel like a million bucks!
$3 burger nights! Buck Mulligan's (an Irish pub nearby) has $3 burgers every Wednesday night! Seriously! And not just boring ole smashed burgers, real, good, fat hamburgers! YUM!
Days off from the gym. It's nice to just sleep in a little and have coffee with my love in the mornings every once in a while.
FMIL. She threw me an amazing shower and I could not have asked for it to be more "me". She's the best MIL I could ask for.
Presents! Not just b/c it's fun to get new stuff but b/c it's forcing us to do some serious cleaning! We now have 3 vacuums! OMG! Now we are able to give some of our stuff away to my future brother-in-laws that just moved out. Merry Christmas to them!
Chicken salad sandwiches. I could eat one every day. I love.
Windows open. It's been cooler here lately and it's nice to get some fresh air blowing through after being couped up for months!
What are you thankful for?