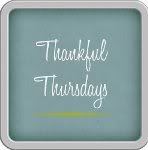 Today I am thankful for:
My new husband :)
Fall weather, yes I am finally embracing it.
Smooth plane rides. I am not a big traveler and don't really care for flying so a nice flight always makes me feel better.
Target. We got a new end table to match our set on sale from $120 to $70!!!
My dad's work. He has been waiting 5 years for a raise and finally got it!
Registry completion discounts. Gotta love 10% off the remaining items!
What are you thankful for?