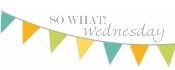 This week I'm saying SO WHAT if...
I said the F word in a HeyTell to

AP

yesterday at 9:30 in the MORNING.

I haven't wore eyeliner all week. I look sickly without it but I don't feel good so I don't care.

I get annoyed with the daily "Happy Birthday" emails that are sent out around work.

I'm really excited that I figured out how to change my favicon.

I have no more energy to add anymore.