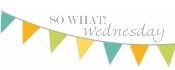 This week I'm saying SO WHAT if...
I let Kendall throw all the clothes out of her drawers and onto the floor while I attempt to get something else done around the house.
I sometimes prefer when Jimmy isn't home. I get a lot done and don't have to worry about him coming in, behind me, and messing it up.
All my posts this week have been somewhat serious. I had some things I needed to get off my chest and this is my platform.
I shared my b-pics on Twitter last night. I am damn proud of that hot girl I once was and I'm not afraid to show her off.
I did change my goal weight by 5 pounds. I was aiming for 130 but now I'm thinking 135 seems very comfortable for me.
I ran the dishwasher and it only had 2 things in it. They were a pot and the crock pot, both things I HATE to wash by hand. Totally worth it to me.