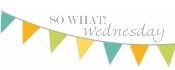 Today kicks of a series SWW guest posts! YAY! I have asked some of my favorite ladies to help me say SO WHAT! and they did not disappoint*.
Up first is my cousin and new blogger
Crystal
. She's new to the blogging world so stop by Life As A Seed and give her some love too. Thanks cuz!
This is my first time EVER being a guest poster on a blog! And who better to do it for then Mrs. Shannon Dew! Being that we are long lost cousins of over 10 years now. But we talk almost every day! So needless to say, I'm honored that she asked me to guest post for her on her Famous SO WHAT! Wednesday!
So....without further adieu, this week, I'm saying SO WHAT! if:
-Chloe isn't walking yet....she's ALMOST there!! She can take quite a few steps on a good day, but she just isn't quite there yet. But I'm in NO hurry! As much as I want her to walk, I'm in no hurry!!
-Chloe is still taking 2 bottles a day. I know that it should be down to 1, and I'm also aware there is no hurry, but girl is so attached to that damn morning bottle, she screams if I try and give her milk in a sippy!
-I still let Chloe fall asleep in my arms every night. It's the easiest way for her to fall asleep, and I don't really feel like dealing with her popping up and having to keep going in to make sure she's sleeping. I'd rather just put her down knowing that she's fast asleep.
-The clothes that I have that say "hand wash only" I throw in the washer on a delicate cycle....I don't have the time NOR the patients to hand wash my clothes. Sorry!
*If you would like to be a guest blogger for SO WHAT! Wednesday send me and email and let me know!