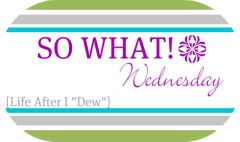 This week's FINAL So What! Wednesday guest blogger is the one, the only, Ashley Paige from I Love You More Than Carrots. I'm pretty sure if you've been around these part for any length of time you know she's one of my #1 gal pals. I have tagged her more times than probably appropriate and our HeyTell conversations are borderline homosexual. Yeah, that. So, without further ado...Miss AP.
Hi ya'll! Can we take a minute and pretend I'm cute and southern? Okay, thanks. This way I can say things like ya'll and not sound like a total dufus. For those of you who don't know me, I'm 'AP,' bloggy besties with Shannon, Wife to The Husband and Mama to 'Baby C." I also word vomit blog over at I Love You More Than Carrots. Oh and C is no longer a baby. He's 15 months old. So, there's that.
Like you, I love Shannon. I mean, lurve her. In a dirrty-girl way. We go way back and I have to say I had such a blast sharing those miraculous 9 months of pregnancy with her. Everything from the positive pee stick to the first kicks to lightening hoo-ha's. We're just close like that. Even though KP is promised to this little hunk of burning love, I have high hopes that C will KP's Husband Numero Dos.
You see, every Wednesday I used to do something mindless called "Wee One Wednesday" which was really just another excuse to share with you all my mad photography skills and ridiculously handsome child. But then life got busy and I stopped taking 5,641 pictures every day. Unfortunately for ya'll (there I go being cute and southern again) this means I have time for my first ever So What Wednesday! Did you hear that? This is my cherry-poppin' SWW. So, without further a do, here's what I'm saying "So What!" to:
:: I consistently spend my monthly "stipend" before I actually get it in my hands. I mean, I know the money is coming and I'm clearly "good for it," and I needed those boots now and C needed that toy box, like, yesterday.
:: I let my child eat nothing but bread and ice cream on occasion. If you knew what it was like to suffer the wrath of Picky Choosy Nasty Toddler, you'd let him eat bread and ice cream, too.
:: I feign sickness/wifely-and-motherly-exhaustion at least a few times per week, you know, to avoid, well, you know. Heck, sometimes I even feign sleep. This is how babies are made, PEOPLE! Better to be asleep safe than sorry.
:: I'm the best fake-sleeper you ever met.
:: I may or may not have purchased the smaller sized bag of dog food this month just so that we'd have a few extra dollars left over for more wine. As it is, Sheepie gets at least an entire meal sitting beneath C's highchair most days. Shameless, really.
:: I tend to wear Leggings As Pants way more than is socially acceptable. It's the new Mom-i-form in my book and seeing my ass in leggings at least draws attention away from my crazy Mom-Hair.
:: I only use the large calendar days in my Erin Condren Life Planner. Those pages that break it down into "morning," "day" and "night?" Haven't seen a pen since that baby first landed it's little overpriced ass on my doorstep.
:: I should really return these babies that finally showed up on my doorstep after being back ordered for thirty days but I secretly plan on keeping them. I mean, I went so far as to buy a completely different pair and don't really need this pair but they're just so pretty. And would look great with Leggings As Pants.
:: I really, really like the F-word. A lot more than I should and much, much more than I should as a parent. To a toddler with a Mind Like A Sponge.
:: I re-pin things on Pinterest and don't always change the captions? I mean, there's only so many ways you can, "I love this!" or "Modge Podge Picture Frame!" or "Really, really adorable nursery bedding ideas!"
:: I wasted today's nap time writing this SWW post. Way worth it, if you ask me and much more fun than folding that laundry that's on it's fourth dry cycle...
Whew, it felt good to get all of that out. Thanks so much, Shannon for letting me take advantage of your little slice of the blog world! I have a feeling this isn't the last time you're going to see me around here... Muah-hah-hah...
So, what are YOU saying So What to this Wednesday?