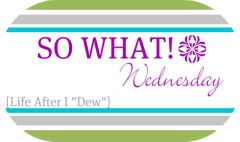 First of all I want to say a HUGE thank you to all my guest posters over the past few weeks. When I was looking for guest bloggers I had no idea I'd get 2 months worth of guests! You all rock, seriously! You are all so funny and creative and now it's back to boring ole me.
This week I'm saying SO WHAT if...
Even after weeks of no SO WHATing I still have nothing.

I turn KPs monitor OFF when I get up in the morning. I like to get ready in peace and that means no "da das" or "ho ho ho" until 7am.

The term "ugly porn" has brought I don't know how many people to this site. True story. Google Analytics told me so.

I really don't know how to pronounce the word analytics.

I know have an extra day off during the week and I still find myself searching for MORE time.

I want to get KP and iPad for Christmas. This would obviously NEVER happen but girlfriend loves my iPhone so much that I never get to see it anymore.

I have a book that I read during the day and then another book I read at night. The one I'm reading at night needs focus and attention, something I cannot give it during daytime hours.
So that's that.