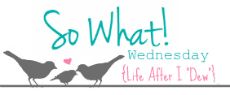 This week I'm saying SO WHAT! if...
I kinda, sorta skipped past all those Easter recap posts. I'm such a jerk.
I really, really want the 80 degree days back. You know the ones we had like a month ago?
I really wanted to get Kendall a Pottery Barn Easter basket but DAMN! For the price of that bad boy I got her a basket AND filled it for less than just the basket would have cost.
I haven't been showering till around 1 or 2 lately. I just can't get my butt out of bed in the mornings now plus this way I get a workout in and only take one shower.
I'm beyond in love with my new Avon bronzer. Like obsessed. Like I barely need foundation when I use it and it's such a nice glow.
I swore I'd never put my kid in character clothes but guess what? Girlfriend loves her Dora and Minnie nightgowns so much and that's all that matters.