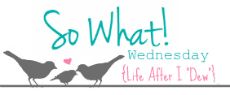 This week I'm saying SO WHAT if...
I've got The Fever. Like, whoa.
I ate way too much at dinner and it was all appetizers.
I've wore my hair in a messy bun all week.
Story time starts today and it's been the highlight of my week.
I sometimes wish we didn't have dogs.
I want to repaint Kendall's room, still yellow just lighter.
I'm really really really super excited for my BFF to have her baby. Any day now!
I made KP a birthday wishlist on Amazon.
I put big girl bedding on said list.
I love Hey Tell.