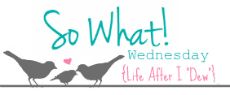 This week I'm saying SO WHAT if...
I'm a little bit sad that when I held my friends new baby yesterday Kendall kept saying "no mama, no baby!".
I am actually excited about Kendall's aDORAble fiesta now that I've started gathering some of the supplies.
I made a list of things to do today and have done none of them so far.
I thought the ending of Fifty Shades of Grey SUCKED ass.
I don't want to cancel our cable until Real Housewives of OC is over. Just love it.
I wouldn't shower if it weren't absolutely necessary. Hate showering.
I have shelves full of books I haven't read yet I can't bring myself to read any of them.
I already let KP wear her tee we got for the beach. I will probably do the same with her birthday tee.
I'm so obsessed with Avon that I cannot believe I never tried it until I started selling it.
I hate hand-washing dishes so much that I'll run the dishwasher with only 5 things to avoid it.
I hardly EVER clean the playroom. What's the point?