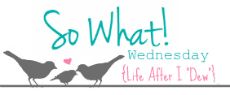 This week I'm saying SO WHAT! if...
I kinda sorta forgot about this post because we were having a blast at Red, White, & Boom last night.
I was really nervous that the pools would be closed today. I seriously don't know what I'll do when fall/winter comes and I don't have cheap entertainment that wears KP out in a matter of 2 hours.
It's also because I'll miss my great tan.
I slept till 9:30 today and didn't even feel a tiny bit guilty about it.
I ate cotton candy, ice cream, a cookie and had 2 glasses of beer last night for dinner.
Now I have to have a Vi-Shake for breakfast.
Right now I'm anxiously waiting for Cuptakes to update so I can download a fun, new 4th of July background for my phone.
I'm addicted to my Scentsy scent Skinny Dippin', like burn it all the time, obsessed. Love it!
I couldn't bring myself to cancel cable completely, instead I downgraded our service. Which means I get to keep the DVR but not Bravo! But I still saved us $60 a month, so that's a win, right?