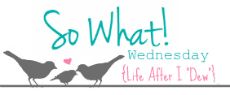 This week I'm saying SO WHAT! if...
I bought the breadsticks and cheese handi-snacks for Kendall but she doesn't like the cheese. I love those things and they're only 100 calories! Score.
Most days I don't shower till around 2. Unless we have somewhere to be in the morning, of course.
I'm obsessed with my tan. Yeah, I said tan. I've been sporting SPF 30 all summer but I still have a delicious glow. I love it.
My dry erase board in the kitchen still says "Welcome Kristen & Smith".
Same goes for the chalk board in the playroom.
I'm really tempted to order the Live Feeds of Big Brother. Tell me not to, someone!
I'm contemplating a new blog design but 1. I really kinda love this one still and 2. I don't know what else I'd do anyway.
I am proud of myself for not giving KP her birthday gifts already. Jimmy and I are both terrible when it comes to keeping gifts till their proper date so this is HUGE, people.
I love our house but Pinterest makes me want to redo every room.
Kendall is still in her PJs at 4 pm and will most likely keep them on till bath and then put on a new pair.