This week I'm saying SO WHAT if...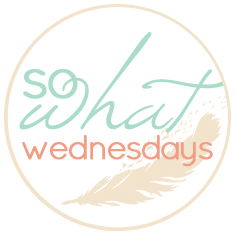 I could eat pizza for breakfast, lunch and dinner and I never get full off of it.
I don't feel the least bit guilty about leaving my husband and child this weekend.
I'm addicted to Twizzler bites. OMG so good.
Pretty much every text I send has an emoticon with it.
I don't know if I'm more excited about getting my hair done tomorrow or my girls trip this weekend.
I bought the Peach Bellini Crystal Light so I can feel like I'm having a cocktail every once in a while.
I forgot how much I love feeling baby kicks.
I can't wait for the day that Kendall just wants to sit and color for more than 2.5 seconds.
I'm dedicating all of my "free time" to reading Gone Girl. I must finish it by Friday!
I plan on not opening my computer all weekend. In fact, I don't even think I'm going to take it with me.
I deleted my Poshmark account after having no success with it. Everyone else loves it, I think it's annoying.
I get really annoyed when people link up here without writing a SWW post.
I show Kendall pictures of little girls with pigtails in hopes getting her to let me put some in her hair.
I don't know what Google Reader being gone is going to do as far as this blog is concerned but I joined Bloglovin' just in case.