This week I'm saying SO WHAT! if...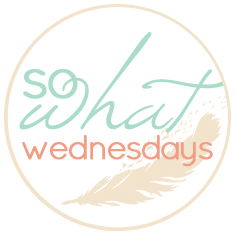 I ask Jimmy every day if I look more tan! I got 2 new bottles of sunless tanning lotion this weekend and they are working!
I bribed Kendall to eat her dinner with the promise of a cookie. She ate her dinner and guess what? She had no room for the cookie. Mom-1, Child-0.
I think that Brandi Glanville's book, Drinking & Tweeting, is going to be the next book I read.
I'm so far behind on RHBH and Teen Mom 2 but I'm using it as motivation to get my butt back on the treadmill.
After reading all the Blissdom posts, I'm glad I didn't go. Mean Girls? Ain't nobody got time for that!
I'm currently wearing sweatpants with more holes than a golf course yet I refuse to throw them away.
I let Kendall eat 3 sticks of string cheese yesterday. Here's hoping she doesn't end up constipated.
I got more excited than most when Kendall asked me to braid her hair 2 days in a row. This is HUGE, people.
I love sites like Save1 where you can type in the name to any store you are looking for to find an online discount code or an in-store coupon. Seriously I never shop without checking for a discount first. But a bonus to this site? Every purchase using one of their codes provides a meal to a hungry child!
I've already started pinning ideas for Kendall's 3rd, Chuck-E-Cheese birthday. I'll be 100 months pregnant and it'll be her last birthday without a sibling. It has to be awesome.
I will find 500 other things to do to avoid unloading the dishwasher.
I was shocked to come home from my girls weekend to find that Jimmy did NOT trash the house.