This week I'm saying SO WHAT if...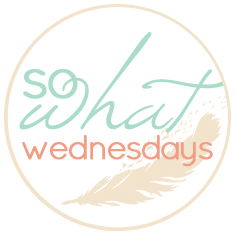 I have to bribe Kendall to do just about anything these days. Whatever works, right?
I feel like picking out a preschool for Kendall to go to next year is as crazy as choosing a college.
I can't wait for warmer weather so that I'll actually be motivated to get up and out of the house at a decent hour.
Kendall's Easter basket was a princess pail and the contents probably totaled less than $10. That's not what Eater is all about, in my opinion.
Speaking of Easter, we did not get an Easter Bunny pic this year.
I let Kendall leave the house in socks and sandals. We pick our battles around here.
We haven't done anything baby related in a long time. We have time, right?
I love it that Kendall cannot open doors yet.
I'm disappointed with my Big Fat Check this quarter.
I created a baby registry. It's more for me to have a visual list of things we need.
This is my first post all week.
I get annoyed any time someone mentions how big my milk makers are. Like I don't know!