This week I'm saying SO WHAT if...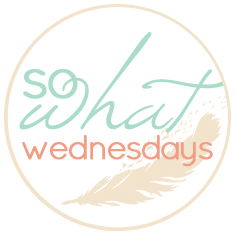 My child has inherited my OCD/neat freak disorder. I kinda love it when she cleans up.
I made a to-do list for inside the house and outside. And it all must get done before Baby Brother arrives.
I just figured out how to use our 'clean' feature on our oven. After 3 years of living here.
I like hanging out in Baby Brother's room more than any other room in the house. Probably because it's the cleanest.
The only thing I'm comfortable in is a maxi dress.
I have no idea what to get Jimmy or my dad for Father's Day.
I'm thinking of cutting SWW down to a monthly thing. Thoughts?
I eat a lunch meat sandwich for lunch almost every day. Almost.
I own 4 pair of the same exact sandals.
We are having KP's birthday at Chuck-E-Cheese this year. She's going to love it.
I'm getting a maternity massage AND pedicure this weekend and I think it's the highlight of my whole summer.
I pretty much hate all of my maternity clothes that I wore when I was pregnant with Kendall.
I gave my child a piece of candy at 10 am because she didn't argue with me to get dressed.
I have a love/hate relationship with the fact that Jimmy doesn't want KP to wear a bikini now.