This week I'm saying SO WHAT if...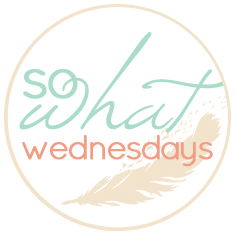 My baby sprinkle gift cards were burning a hole in my pocket and half of them are already spent.
I'm excited for vacation, I love the beach, but I think I'm most excited about disconnecting for a solid week.
I've accepted the fact that this house will never be as clean for Baby Brother's arrival as it was for Kendall's.
I kinda feel like the whole Google Reader thing was blown way out of proportion.
I've already got my favorites on Big Brother and one of them may or may not be Elissa.
I still don't get why some bloggers are "popular".
My family and I have a running group FB message and it's making me even more excited to spend a week with these crazy people.
I bought two new hospital outfits for myself and I'm just packing them straight into my bag. I can't wait to have brand new, never worn clothes this time around. I'm hoping it'll help make me feel normal/less disgusting.
I decided at the last minute that I needed a fresh cut & color before we leave on Friday. Thankfully I have a wonderful stylist and she got me in bright and early yesterday!
I'm not going to have guest posts while I'm away.
I suck at laundry. I'm pretty good at all other household chores, I think.