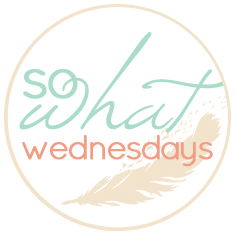 Wow, my first ever guest post, I am so excited. I am pretty new to this blogging thing and to be guest posting for a veteran like Shannon while she spends some time with her brand new baby boy. As a mommy to a 22 month old little girl and a 2 month old baby boy I know how precious that time is so I think it is awesome that she is allowing other bloggers to guest post while she enjoys this time.
So, without further ado, this week I am saying so what if...
- Next week we may eat mac and cheese or grilled cheese or McDonald's every night for dinner, the husband is going out of town for work and it is just easier
- I die laughing every time the husband has to clean Mile's "blow out". He has changed a million blow outs, but Gianna rarely has them and since he is at work all day he doesn't get to do many of them right now, so when he does I think it is nothing less than AWESOME!!!
- I find myself sometimes wanting to push down the mean 3 & 4 yr old kids at the playground. I don't actually do it and I know all kids are mean sometimes, but some are just ruthless.
- My legs glow in the dark, we are going to the beach in 2 weeks, yay!!
- I love bragging on my kids. They are the greatest, what can I say.
- Working out so I can eat french fries makes total sense to me. It is all about balance people!!
These are the things I am saying so what to this week, what about you?? Thank you again to the lovely Shannon for letting me guest post. Please check out my
blog
and follow along if you'd like.
*Remember if you'd like to guest post let me know by emailing me at shannon.r.dew@gmail.com