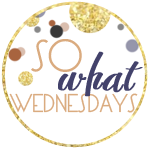 This week I'm saying SO WHAT if...
I want to win my own giveaway.
My 6 week old baby weighs as much as my BFFs 4 month old.
I almost forgot to write this post.
I attended a blogger event yesterday where we were given gift cards and those gift cards are already spent.
I really really need like 5 hours in a quiet room and a big cup of coffee to just sit and catch up on blogs. I'm that far behind.
Instagram video pisses me off because OMG it takes so long to load.
If James wakes up before 6 am I put him in bed with me for another hour. I never let KP in bed with me.
I don't like Pumpkin Spice Lattes.
I want to join Stitch Fix but I need to lose a good 30 lbs before I do so.
I love having things to do outside of the house so that I can wear real clothes but I love coming home and immediately putting on my yoga pants more.
I'm lazy and hate using the reusable k-cup in the Keurig even though I'm sure it'd save us a lot of money on coffee.