This week I'm saying SO WHAT if...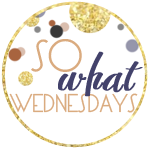 I sometimes leave Jimmy asleep on the couch at nights. Sometimes. What it's nice having the bed to myself sometimes.
I'm too lazy/don't want to deal with The Crazies so I ordered Kendall's Build-a-Bear My Little Ponies online. Ain't nobody got time for that.
My dog stinks but I refuse to bathe her because she will literally run outside 2.5 seconds after a bath and roll in something stinky again.
My child loves to sing the theme song to Bethenny.
My Christmas list consists of things like a "cute" coffee mug, a lamp, sweatpants and Hunter boots. I win the award for the lamest list EVER.
James's Citrus Lane box came and I had every intention of keeping it till Christmas but I couldn't help myself and opened it the minute it came.
I'm a little bit obsessed with all things with deer on them. Like this tee from Old Navy.
Our Elf on the Shelf did much cooler, more fun things to surprise Kendall last year. This year, so far, he's just been in different hiding spots. No crazy antics here, yet.
I'm dying to know what our house looks like all lit up with lights but have yet to actually go outside and see them. #lazy.