This week I'm saying SO WHAT if...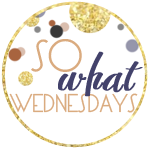 Kendall and James have 7 gifts between the two of them, from us. They have so many gifts coming from grandparents and already have so, so much to be thankful for so we are keeping our/Santa's gifts to a minimum and I feel good about it.
I didn't send Kendall to school yesterday. Schools should have been closed. It took my husband nearly 3 hours to get to work, there was no way I was going out in any of that mess. Besides, by the time I dropped her off and got home I would have had to turn around and go get her. Not worth it.
We leave our Christmas tree on 24/7. I know it's pointless to have it on when we're sleeping or not home but I like the glow when I come in whether it's 5 am or 5 pm.
I'm zero percent prepared for the cookie exchange/decorating party I'm having this weekend. You've been warned, ladies.
I suck at responding to comments lately. I promise I love you all and appreciate all the love you leave. I will try to respond when I can but this time of year just gets the best of me and all I want to do is make memories.
I'm thinking about not taking sponsors in 2014. I will still do sponsored posts here and there, don't get too excited, but I might stop with my ads in my sidebar. We'll see.*
I don't think a home gets cozier than ours at Christmastime. I just don't think it's possible and it kinda makes me wish it were Christmas all year.
I had big intentions of finally sitting down and making a budget yesterday during nap but very quickly got overwhelmed and said forget it.
*Because I don't know what's going to happen, I'm offering 50% off all of my ad spots for the rest of the year with code 'merry'. Take advantage now because this might be your last chance ;-).