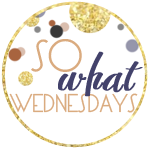 This week I'm saying SO WHAT if...
I am taking the leftover cookies from my cookie exchange to Kendall's preschool program on Thursday. Seriously, if I don't, I will eat them all.
I'm kinda sorta jealous of Jimmy's new car. As in I will be driving it every day because he has a work truck. So ha! Looks like I got a new car.
I discourage James from rolling over. He has been able to roll from belly to back since he was 17 days old. Now that he knows how to go from back to belly it's like he doesn't know what to do and he just gets pissed until I roll him back to his back.
We still have the majority of our Christmas shopping to do. Christmas is a week away, people.
Our annual blog Christmas dinner is tonight and I have no idea what I'm going to wear. Would leggings as pants be appropriate?
I haven't lost a single pound since October. That's what New Years Resolutions are for, right?
I've been trying to catch up on RHBH and I think that Carlton is a total wack-a-doo. Like weirder than Lydia from RHOC.
We're going to be screwed when James is too big for his swing, which will be soon. He only takes naps in it and he naps good in it.
Jimmy and I have been contemplating what we'd do IF we won the Mega Millions, nothing too crazy but it sure would be nice.