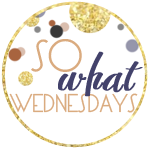 This week I'm saying SO WHAT if...
I'm kind of over the Christmas decorations being up but the thought of taking them all down makes me twitchy.
I'm still searching for the perfect New Years resolution. Last year I picked a word and I think I want to do the same this year but finding THE ONE is hard.
I'm a little bit jealous of James new SleepSack and wish it came in my size.
Our playroom looks like Toys R Us threw up. I have no desire to organize all of the new things and I know just as soon as I do they'll just wind up all over the floor again anyway.
I re-washed a load of laundry three times last week because I kept forgetting about it in the washer and there was always a load being refreshed in the dryer. I suck at laundry.
I'm in a re-do everything funk. I want to redecorate the entire living room, kitchen, dinning room area of our house. Jimmy might kill me.
I'm thinking of changing my blog design. Again.
I'm ready for normal life to resume. Normal work weeks for Jimmy, preschool schedule for Kendall and hopefully some down time for us all.
We took Kendall to see Frozen about a month ago and I've been dying to see it again. Such a cute movie!
This weeks SWW sucks and I probably should have just skipped it again this week.