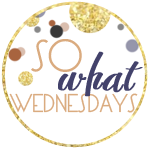 This week I'm saying SO WHAT if...
A $5 bouquet of "managers special" flowers makes me happy.
Lately I've started a new weekly tradition of hitting up the supermarket for clearance flowers. I don't know what prompted me to do it three, or so, weeks ago but I think it was that I was tired of our table looking "blah" and decided to check out the floral department. I found a whole section of flowers that had been seriously marked down but were still gorgeous bouquets. I'm not talking just carnations and babys breath. These bouquets are full of lilies, roses, daisies, sunflowers, some wispy spiky yellow flower that I love, they're beautiful.

The first week of having clearance flowers they lasted over a week so when I went to the supermarket that week I bought another, and so on and so on. Each week they last almost exactly a week and for that entire week they make me happy when I walk into our kitchen/dining room. I don't know why I waited so long to start buying myself flowers before.

Jimmy, that was a hint ;-).

It feels silly to write a whole post on a silly little bouquet of flowers that no one really sees except me and Jimmy and the kids but it's really been a game changer. Seeing them makes me smile, it makes our room seem happier, Kendall loves watching the flowers bloom and talks about all the different kinds, it's really fun. Silly, yes, but that's what life is all about, right?

What are you saying SO WHAT to this week? Also do you have any silly splurges, like clearance flowers, that make you happy?