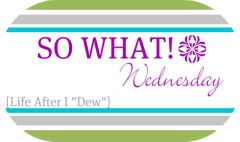 Today's guest blogger and I go back, WAY back, like 5 or so years ago. We "met" via a fashion/style message board, which, at the time, may or may not have been dedicated to Jessica Simpson. Anywho...she's gorgeous, super sweet and girlfrined has STYLE! In fact, her blog is about just that, styling! She recreates celebrity looks for the every day girl and she always post her outfits, which are FAB! Seriously WISH I had this girl's closet. So say "hi" to Kylie, won'tcha?
Hi everyone, I'm so excited that Shannon let me get in on the SWW posting fun. I've always wanted to do these on my own blog and never have. So here is what I'm saying "so what" to today:
~So what if I leave clothes in the dryer or laundry basket for a week before I fold them. It's just little ole me at my house, so I'm ok with it.
~So what if I rarely unpack from a trip until the next trip I need to lack for... Again, it's just me, I'm good with it. Spare bedrooms are good for hiding clothes and luggage that I don't want to look at.
~So what if I get jealous every time I see one of my friends posting about going to Vegas on Facebook!! I'm obsessed with the place and I'm beyond ready for a trip back.
~So what if I get irritated when people tell me to do things that I already know to do, I'm not stupid, give me some credit.
~So what if I also get irritated when people tell me to do something I've already done... See above, I'm not stupid, I'm actually a mind reader!! :)
~So what if I rarely remember to do my Friday Favorites post on
my own blog
.
~So what if I obsessively check the reader stats of my blog. I gotta know if peeps are reading and which things that I write about are most popular.
~So what if I wish I could just be a full time blogger. If I could give my blog 100% of the time I wanted, it would be awesome. This thing called a job gets in my way.
~So what if I sometimes blog at work on my downtime. Hey when do you thing I wrote this post?? The work gets done, promise.
~So what if I don't get to work until 9 most days. I just say my lunch hour is from 8-9.
~So what if I eat at the same restaurants every Tues, Thurs, and Sun. We're such regulars they get worried if we don't show up.
~So what if I'm 33 and not married or dating anyone. I've finally realized that there isn't anything wrong with me and that God has a plan for my life and I just have to be patient to find out what that is.
Wow, that was alot!! Thank you Shannon for allowing me to guest post on your blog. So nice to say "so what" to all of these things!! And ladies, if I can plug my own blog for a minute, come visit me at
Styled by MaryKylie.
I'd love to style you!