The winner of yesterday's tee giveaway is Alysia!!!! Congrats and make sure you show us all the tee you pick!!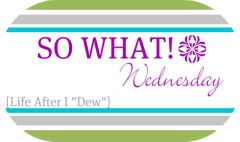 This week I'm saying SO WHAT! if...
I bought throw pillows that I don't really like just because they were free. They're better than the ones we had before so that's progrees, right?

I check Twitter, email and Instagram every monring, from bed, before I do anything else. Priorities people!

I'm starting to like the whole "leggings as pants" look. I still have to have my booty covered though.

I expect J to want to watch my movies but consider it a form of torture when he wants me to watch one of his.

I want to repaint Kendall's room already. I am loving a sky/cornflower blue for her room right now. Maybe when she gets a big girl bed and big girl bedding?

I didn't run 3 times last week like I'm supposed to. Somehow I only managed to get in 2 days but I guess that's better than nothing. Too bad I'll have to make up for it this week though.

I head Kendall wake up at 6 am Mondaymorning but opted to turn off the monitor instead of going to get her. Good decision on my end because she ended up going back to slee till, wait for it, 8:30!

I put up a "Do not ring bell or knock, baby is sleeping" sign on my door. It NEVER fails that UPS or FedEx comes when I'm in the shower and Kendall is napping, every time. The dogs go crazy and I have no way of sushing them b/c I'm in the shower, which in turn wakes up Kendall, every time. Well, NO MORE, mama means business.

I'm so obsessed with my new slouchy hat that I sometimes just wear it around the house, while I'm wearing sweats.

I wear sweats 99% of the time I'm at home. The minute I come in the door from work I change into sweats, if it's the weekend I shower put sweats back on and don't get dressed until we leave and you bet your bottom dollar the minute we come back home the sweats are back on. Isn't J a lucky man?