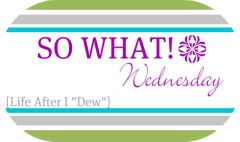 This week I'm saying SO WHAT if...
I already spent my Old Navy gift cards I got for Christmas. I actually spent them Christmas night. What can I say, I can't pass up a good sale.

I was supposed to take yesterday off from running and I ran anyway. Am I really starting to like it?

I refresh my favorite blogs constantly waiting for an update when it's been a couple days since their last post.

I love listening to dirty ghetto rap. Like love it. The dirtier the better. Jimmy was in the car this weekend and "She Does" by Lil Wayne came on and his jaw hit the floor.

I got a white North Face instead of an easier to keep clean color like, gray, black, or even cream. Just because I'm a mom I will not get it dirty, you hear that KP!?

I really don't care about the fact that Facebook changed...again. Everyone gets their panties in a bunch about it like the first day and guess what? Facebook doesn't care and will most likely change it again. Get over it.

I skipped right over all of the "Look at my Christmas" posts in my reader. I'm glad everyone had a fahbulous holiday, I really am, I just don't care to see 985,374,495 pictures of presents, decorations, food and the like. Sorry.

I have a love/hate relationship with pictures of my former fat self. I love to see how far I've come over the year but I hate to see myself that way. Never again.