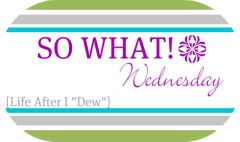 This week I'm saying SO WHAT if...
I let my kid eat a cookie BEFORE dinner last night. Mom of the year, right here.

In the same fashion, I let her eat a cookie, mixed veggies and a banana for dinner.

Not cracking my knuckles is turning out to be the hardest resolution I've ever had to make/keep.

I am craving some girl time. I blame it on being home, alone with a toddler for 4 days straight. Good think

Lindsey

has invited me out for a little girls/blog dinner date night on the 21st!

I cannot stand all the football talk that's going on in Twitterland right now. Snoozefest.

I don't watch the Bachelor. Cannot stand the thought of that show and the tweets that go along with it.

I left work 4 hours early last Thursday and didn't go pick up Kendall. I needed some "me time" that consisted of getting my car washed, getting my tags renewed, returning some things to Target, and cleaning the house. It.Was.Fabulous.