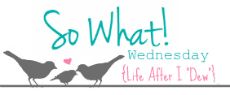 This week I'm saying SO WHAT if...
I didn't blog yesterday. It's ok. I didn't have anything worth a shit to talk about so I figured, why bother? Plus I've got some great sponsor stuff for April that I'm working on, can't wait to share with you all!
I didn't shower yesterday. Monday was a PJ day so I showered and didn't even dry my hair, my hair was still wet when I went to bed, so I really thought it was silly to shower again. Plus, they say it's not good to wash your hair every day, right?
Kendall begins and ends her day with Mickey Mouse Clubhouse.
I got so damn used to those 80 degree days last week that this week feels like it's freezing but it's really 60.
I convinced Jimmy that we needed a water table and bubble machine for the summer months. I mean am I right ladies?!
I use more gas now than when I worked. I just can't stay in this house every day so even if we go to the grocery store, we go somewhere.
I'm really contemplating wearing a bikini this summer. If you live in Columbus, beware.
I get Starbucks any chance I get. I know it's "just coffee" but gah, there's just something about that green and white cup.
I've been laying in bed, with coffee, catching up on the DVR every morning this week instead of working out.