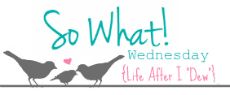 This week I'm saying SO WHAT if...
I let all my WWF and Draw Something games expire or resign. I just couldn't keep up anymore and quite frankly I need to find a better way to spend my free time anyway.
I didn't post yesterday. It was nice not checking my email all day.
I turned my diapers.com boxes into a playhouse for Kendall and she LOVES it more than any toy in the playroom.
I really want to read Fifty Shades of Grey but don't want to spend money on it so I'm on the wait list at the library. I'm # 1301, OMG kill me now.
Kendall and I had a mini dance party to the Hip Hop Nation station yesterday. Too $hort and G-Unit and explicit lyrics included.
I just finished Kendall's one year photo frame this weekend. Until Sunday it had been sitting on the shelf with only months 1-4 filled in and that's only because it was a gift and was given to us with those included already.
I hate Doe-rah and every time KP asks for her I say, "Mickey?" "Bubble Guppies?" ANYTHING BUT GOD FORSAKEN DORA!?
I haven't put make up on since Saturday. I'm sure my skin is appreciating the ability to "breathe" the past few days. Thank you, Avon Tinted Moisturizer for still making me glow.