April showers bring May sponsors!
This month I wanted to do things a little bit different around here. For the past two months I've talked up my sponsors, I've told you a million and one reasons why I love them but I want you to hear it straight from the source! I wanted them to tell you why they love what they do and what their passion is. So, without further ado, I give you Life After I "Dew"'s May sponsors!
Thirty-One Gifts.
Hi! I'm Kodi, and I am a Director with thirty-one. I've been selling thirty-one since last June, and I love it so much. I have so much fun "working" at the parties and it's the perfect part-time "job"! I make really good money, and I don't have to be pushy at all because the products are so great they sell themselves. I love how thirty-one is always coming up with awesome new products.
Our new Summer catalog launches today, and there are a few fun new things I'm so excited to share! We have a new print called Minty Chip that is so cute!
We also have a new Spirit collection so that you can support your favorite team or player. I already got eight of these new products, and they're my new favorite. Oh, and I got them for free because I'm a consultant! You can't beat that! If you or anyone you know could use some extra monthly income, I'd love to talk to you about the blessing that thirty-one has been for my family. E-mail me anytime at kodibevelle at gmail dot com.
Our Love Nest.
I'm Pam from over at
Our Love Nest
. I would describe myself as a twenty-something semi-newlywed (does 18 months still count as newlyweds? Yes? OK, then.). Running a marketing consulting business by day with baby fevah constantly on the brain by night. I'm guilty of buying a few too many Forever21 tops and watching way too many hours of reality television. obsessively neat and organized and an aspiring at home chef. lover of God, my sweet husband, the New York Jets and an ice cold beer (or bubbling glass of champagne!) Comes join us on our journey through being newlyweds, taking care of our crazy puppy, renovating and decorating our new home and starting our family!
Wild Bean Vanilla.
The Wild Bean Vanilla Company is a family-run company located in Mesa, AZ.
Wild Bean Vanilla Company was started after we received a bottle of real
vanilla extract from a friend. We were amazed what a huge difference
real, handcrafted vanilla extract made in the taste of our foods! We
specialize in vanilla extracts (Madagascar Bourbon, Tahitian and Mexican),
gourmet and extract grade vanilla beans, and related goods including
ground vanilla and vanilla sugar. We also carry a line of flavored
extracts, including almond, peppermint, coffee, banana, chocolate and
more. Check us out on our website at
www.wildbeanvanilla.com
or check out
our blog for recipes, and general vanilla information at
www.wildbeanvanillablog.com
According to L. According to L designs and creates accessories for women and children. Classic, fun, and affordable! Life is Hard. Look Fabulous Anyway.
From Nanny to Family.
I'm not always sure what the best way to answer questions about passions and loves is, but this I do know- I have a fierce love for my family, wine is my friend, and blogging is the hobby I never knew I wanted. Writing is something I have always loved to do and while I'm not sure if I'm any good at it- it makes me feel good, that is why I have a little slice of the ole' internet. Because keeping things to yourself where people can't judge you is no fun.
Dude and Three. I'm Jess. I'm a mom of four, all of whom are infinitely smarter than I. I have diarrhea of the brain on my blog on an almost daily basis, writing about my family, my special-needs, poofy-haired toddler, and my adventures in running. At which I suck. (Really, I'm just a total running poseur but I ran a ten mile race a few weeks ago so I'm TOTALLY pretending I'm an Actual Runner) Sarcasm is my preferred font, and honesty is the blanket I snuggle with on chilly nights. I have a lot of hair, drink a lot of smoothies, take a lot of pictures, and often daydream about my real life, the one where I live on the beach in Mexico.
My Sweet November. My Sweet November is a One Woman Show. My name is Candy and I do all the designing, production, and photography of all of the items I sell. I've been creating and selling jewelry since 2009 and as you can tell from my shop, cameos are my favorite component to work with. In my shop you'll find nautical and gothic inspired jewelry as well as modern and whimsical designs. Perfect for special occasions or just everyday wear. I hope you enjoy everything I create just as much as I enjoy creating it for you!
And, as usual, you are in for a treat! Miss Candy is offering one lucky L.A.I.D. reader her silver bird necklace! We all know what a big fan of birds we are around these parts, hello blog design. But seriously though, look how cute!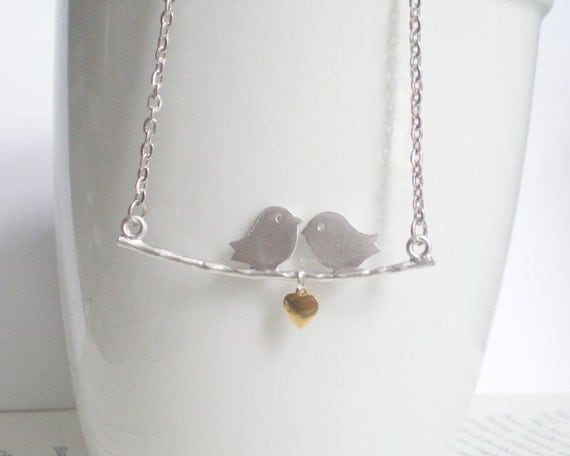 Are you dying? I am! Actually, I think I may order one myself! LOVE it!
Here's what you need to do to win:
Follow Life After I "Dew" via GFC
Go to My Sweet November and "heart" her store.
That's it! Two chances to win! Leave one comment for each. Good luck!