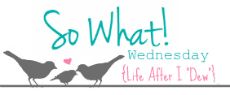 This week I'm saying SO WHAT! if...
I hardly wear make up these days. I mean I wear foundation and concealer but the eyes? Bare most days. Sorry husband.
We were stuck indoors all weekend thanks to KP's allergic reaction and yet I still wanted to have a rainy Monday.
I laid out while the husband dug our new patio this weekend.
Yesterday I got on the treadmill with a hot oil treatment on my hair. I call it multi-tasking.
Jimmy and I are getting a kid-free night this weekend and I'm literally counting down the days.
The episode of SATC where Samantha leaves Smith to go "upstairs" with Richard brings me to tears, every time.
I'm thinking KP will get 2 birthday parties this year. One at the beach and one when we get home, yes.