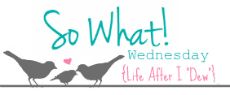 This week I'm saying SO WHAT if...
It will most likely take me all week to unpack my suitcase. Hate it. Good news is I did most of our laundry before we left but the putting away is always the worst part. Vacation or not.
I was a little disappointed when my monthly lady friend showed up on vacation.
I let Kendall watch the same Dora DVD almost the entire way home on Saturday. It kept her quiet and kept me sane. So be it.
We talked about baby names on vacation. And by "we" I mean everyone except for Jimmy was involved. I mean he will be eventually, obviously, but for now I'm just putting my feelers out there.
I am ready to get some of my fall decor out. We spent a week in hot!sunny!hot! weather so coming home to the 70s and low 80s feels like fall to me.
With that being said I also bought the fixins for chili.
I also bought a few fall pieces for my fall wardrobe. As if I needed any of it.
The only souvenirs I came home with were a sunburn and cold sore. Hot. I know.
One of the things I missed the most while we were gone was Hey Tell-ing with some of my favorite ladies.
I'm not going to be doing a big vacation recap post. I don't like reading it when others do it so don't expect to hear all about our vacation any time, ever.