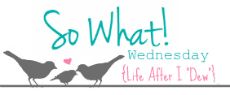 This week I'm saying SO WHAT if...
I have a new link-up in the works. Stay tuned to tomorrow's post for the deets!
I am failing at my new years resolution of cracking my knuckles.
I can't wait for fall TV to start back up. Now that we have limited cable I am DYING for something new to watch.
My to-do list from Sunday is still on our white board and I've only crossed one thing off.
I turned the a/c on after I swore we were done with it for this year. 90s are hot, y'all.
I pin my own pics/ideas on Pinterest.
I'm taking risks on some new blog things coming up. Go big or go home, right?
I stayed up favoriting baby names on my baby name app last night.
This week's SWW suck.