This week I'm saying SO WHAT if...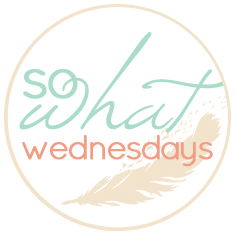 I can't get enough of this new blog design. Jess from Diamond Doll Design is a miracle worker! Seriously, if you are looking for a new look, she's your girl!
I'm officially addicted to buying Baby Brother new clothes! Who says boy clothes are boring?
I had an "unfollow" party yesterday. I feel damn good about it too.
I had intentions of working out the past two night but it just didn't happen. I'm so tired this week.
We had a total lazy, movie watching, junk food eating day yesterday.
I love it that Kendall has told me happy birthday every day this week, even though my birthday isn't until tomorrow.
I spent a lot of my birthday money on Kendall and Baby Brother.
I feed Kendall oatmeal before bed almost every night. She's not a big dinner eater but I can't stand the thought of sending her to bed without something in her belly.
I can't wait to fill out my maternity clothes with a legit belly instead of a "did she eat too much?" belly.
I hate bed time now. It used to be my favorite time of day but now The Toddler Tantrums have invaded our night time routine and it's miserable. Every.Single.Night.