This week I'm saying SO WHAT if...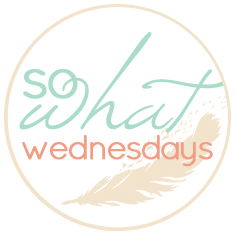 I have a new-found obsession with English muffins with butter and peanut butter. Literally have one every day.
I've started taking my showers at night. For the most part my hair has been holding up OK the next day. It's making my mornings more productive anyway and that's what I'm going for.
I am obsessed with baby kicks.
I'm worried that KP's room isn't "cool" enough now that I am in love with James Weston's room.
I think just talking about things on my blog actually solves problems. Sometimes.
I wish I had real pregnancy craving. Something wild like ham and marshmallows on rye bread with pickles and honey.
I am desperate to find a maternity bathing suit that doesn't suck. If you know of any, send them my way. Oh and they can't be as much as a small car. K thanks, bye.
I tell myself EVERY day that I'm going to go to bed early yet EVERY day it's 11 o'clock before I hit the pillow.
I keep a running to-do list in our kitchen yet I always manage to do everything except what's on it.
We ate dessert before dinner last night.
It was froyo, again.
I ordered our crib last night and OMG I cannot wait for it to get here! I mean, that makes it so much more real, right!?