This week I'm saying SO WHAT if...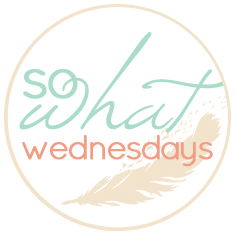 I'm so anxious to have Baby James's nursery complete, even if we have months before we'll "need" it.
I was on top of stocking up on diapers with Kendall but so far I've only bought two packs for him.
I've been writing a lot of blog posts but I haven't been reading as many. I'll get caught up, I promise.
My poor husband comes home to a wife in yoga pants most days.
All Most of my recipes come from Kraft.
I swore I was going to get on the treadmill during nap today but we're an hour and half in and I have yet to do so, so I don't see it happening today.
I got KP's acceptance letter to preschool and got a little emotional.
When I went for my 24 week appointment on Monday my doctor left me in the room w/the ultrasound machine on and the wand in my hand and I totally tried looking for baby brother's face only to find his spine.
I am still laughing at the comments I got on yesterday's post.
Also, the fabulous Miss Tara from
Jimmy Choos and Tennis Shoes
is expecting her first little bundle of joy this fall and to celebrate she's hosting a fabulous giveaway. Do you like shopping? Would you love to have an outfit styled by THEE Mrs. Gibby? Then head on over to her neck of the woods and enter!