This week I'm saying SO WHAT if...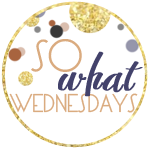 I took my food processor into the bathroom to blend so that I wouldn't wake the baby.
I like feeding James often because it gives me a chance to sit down.
We might be trading in my "new" car already. It's a piece. Period.
eMeals.com isn't really saving us money but I love it anyway.

I'm feeling overwhelmed with life lately and it's stressing me out.
The way I deal with it is by cleaning. Cleaning makes me feel better.
Kendall is being three different "things" for Halloween. Thank God for a dress-up trunk.
Jimmy's dressing up this year and I'm not.
We still haven't taken family pictures but I already know what Christmas cards I want.
I am tempted to order a new Erin Condren Life Planner but I barely used my last one.
I'm glad we're having some warm days coming up this week. I'm not ready for the frigid temps we saw this weekend.
I consider BB cream and dry shampoo as a complete shower and call it a day.
I'm super excited for Live With Kelly and Michael's Halloween show this year!