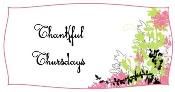 Today I am thankful for:
My wonderful FMIL for helping me with my wedding stresses. She is such a positive person and knows how to cheer me up always!
My mother. She spent all night helping me assemble invitations (way past her bedtime) and I couldn't have gotten them out without her.
My new coordinator at my reception site. She's been amazing and gets back to me very quick, which is something I totally appreciate.
My friends Julie and Hailey. Julie has listened to me complain about all my stresses this week and Hailey is so sweet and sending me an adorable dress that didn't work for her, hopefully it works for me!! Look How cute!


sTORI telling. Love this book! I think it's the fastest I've ever read a single book, I cannot put it down!
Future Mr (as usual). I have been a hot stressed out mess this week and he has dealt with me with such grace. He is a saint.
Cooking. I love to cook and bake, love it. I haven't done much of it lately b/c I have been so busy w/wedding stuff and with Future Mr being gone it just seems unnecessary. WELL...He is off 3rd shift and invitations are done so I'm back in the kitchen tonight!
What are you thankful for?