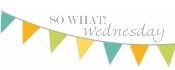 This week I'm saying SO WHAT if...



If I tricked Kendall into sleeping longer by taking a shower in Jimmy's bathroom. I swear she hears me turn on the water on when I'm in my bathroom so I thought MAYBE this would work. And guess what? It did.




No matter how much I love RHBH I will always love RHOC better. They were the OGs and that's that.




I bought the new "all nautral" coffee creamer because all my Twitter friends were doing it.




I'm trying to switch back to Blogger. WP sucks with all it's spam commenting and I'm DONE moderating it all.




I am ready to get the fall decorations out.




I pretty much eat the same thing for lunch every day. I like knowing how many calories I'm getting so this saves me the headache of figuring it out each day.




I have had pumpkin butter for breakfast every day since we got it.




I used to hate people for not playing WWF as quickly as I do and now I'm one of them.




I'm not wearing my engagement ring anymore. It always scratches KP and gets caught on things so I'm just giving it a break for now.