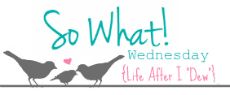 This week I'm saying SO WHAT if...
Every week when I type this I type "SO WHAT iff" as if there is some normal reason if should have two f's.
I just got a family doctor at the ripe ole age of 29.
I hated the season finale of Desperate Housewives.
I like that I've been a little M.I.A. from the blog/social media world lately.
I just got hot pink shorts but I'm a little afraid to wear them.
I quickly showed Jimmy my favorite David Yurman ring when he claimed I "don't like jewelry". Silly husband.
At this time last year I had already bought the majority of Kendall's birthday party stuff and this year? Nada so far.
I enjoyed every minute of grocery shopping yesterday because I did it alone. It was glorious.
I want a monogram iphone case but am way too cheap for any I've found.