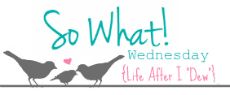 This week I'm saying SO WHAT if...
Some days I just sit on the couch and blog and watch reality trash during nap time. There is a mess surrounding me but sometimes that break is just so therapeutic.
I've been showering at night and although by the middle of the next day I look like I need a shower again it's nice to have one less thing to do in the morning.
Real Housewives of NY is getting deleted from my DVR list now that Jill is gone. I mean she was about the only reason I watched since Bethenny left and now the whole cast is practically new, no me gusta.
Jimmy was so excited about my $17 bedroom makeover that he showed all our friends who came over this weekend. It was really cute.
I'm not sure what we're going to do once my unemployment runs out. I mean we rely on that money and the thought of just living on Jimmy's income is frightening.
I am anxiously awaiting the birth of my BFF's first baby girl! Seriously cannot wait to get my hands on her, any day now!
I'm really trying not to spend frivolously but all the girls posting their cute jewels from Bridier Baubles and adorable dresses from Kiki La'Rue are making it very hard!
I pin myself on Pinterest. Lame, I know.
I over eat every weekend. I just cannot resist a good BBQ and cookout food is my weakness. Love it all.