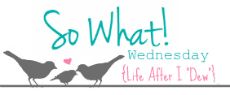 This week I'm saying SO WHAT if...
I've already got the invitations for Kendall's party addressed and ready to send.
The countdown is on, exactly 16 more days until I see her sweet ass face.
Kendall and I had to have Toms and we've both only wore them a handful of times.
I talked about going #2 on the blog yesterday.
I get a little bit embarrassed every time someone I know IRL tells me they read this blog.
I also get a little bit flattered.
Hot dogs and mac & cheese is easily one of my favorite dinners.
Speaking of food, I swore I was going to start watching my calories again this week and then I saw the sign at the local ice cream shop. Sea Salt Caramel is BACK, you bet your bottom dollar I stopped.
I have totally slacked on the 300 Ab Challenge, I'm back on it hardcore this week!
I made a to-do list this morning and have done exactly nothing on it.