This week I'm saying SO WHAT if...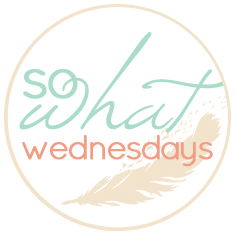 I decided that a workout wasn't in the plans yesterday. Teen Mom 2 and going through Baby Brother's clothes was more important.
I am on a hunt for the perfect newborn hat for Baby Brother, again this is ridiculous. I have it narrowed down to nine...
I'm still trying to figure out exactly how it makes sense for Kailyn to have Issac around Javi but not for Joe to have him around Vee.
I'm looking forward to the pools opening this weekend.
I washed my car yesterday for the first time since I don't know when.
I am actually nervous for my glucose test tomorrow.
I started packing Baby Brother's hospital bag already.
I'm an overachiever and like to do things like pack the diaper bag and have the nursery ready way earlier than I really need to.
I'm not ready for the super hot temps we've been getting a preview of this week.
I can't wait to fit into my peace tee again.