This week I'm saying SO WHAT if...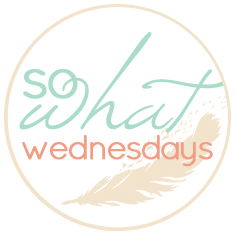 I let Kendall eat chips and salsa, a Handi-Snack and an apple for dinner last night.
I got "dressed up" to go to the doctors yesterday. To a SAHM leaving the house is huge so why not get dressed up?
It may be cooler outside than inside our house but I still have the air on.
Kendall peed the bed the other night and rather than change sheets in the middle of the night I just put a towel down.
I just got my PayPal MasterCard and it's like a door opened to endless online shopping possibilities.
I ignore phone calls sometimes. Just because I have my phone available doesn't mean I have to answer it. Right?
I totally fell for the Brady Bands trend and ordered myself 4 last week. You guys were right! Those things rock my socks AND really do stay put!
I get really annoyed when I type up a response to a comment someone leaves me only to find out that they have a no-reply email address. Burns my biscuits!
Normally we keep our a/c on 75 during the day, these days? Nothing above 70. I'm going to hate our electric bill.
I don't really need anymore Scentsy but I could not resist some of their new spring/summer scents and placed an order yesterday.
I want to hire a landscaper to come and rip everything, yes everything, that is not a tree or bush out of our yard. It's like a jungle out there.
I also want to hire a house cleaner for these next few months. I cannot keep up like I used to and I'm sure with a newborn it'll be even worse.
I can't wait for preschool to start. I think Kendall is going to thrive and love it, I'm excited for her.