This week I'm saying SO WHAT if...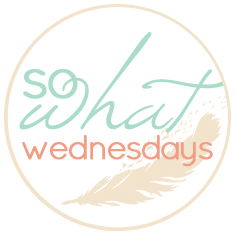 My child likes to hold hands while she's going to the bathroom. Kinda gross but also kinda sweet, no?
I am so happy that I actually kept Jimmy's Father's Day gifts until Father's Day! He and I are both bad a secrets and usually give our gifts way early.
I had to create a separate "review blog" for some of the things I am doing due to BlogHer's rules. I think you guys will be glad to not have some of that stuff cluttering this one up, right?
I get annoyed when episodes of RHOC aren't available to view on Bravo's site.
I always overestimate the amount of fruit I need when I make my famous fruit pizza. It's fruit so it'll never go to waste.
I've taken a break from exercising the past week to focus on things like getting our housework caught up.
I don't love my new car. I love my new car payment.
I'm a bit behind in blogging these days and some days I feel so behind it's not even worth catching up on.
Kendall and Baby Brother might end up sharing the same birthday. We'll know in about 3 weeks when we schedule the c-section.
We are still calling him Baby Brother.
We've barely played on our swing set this summer. We've done tons outside, just not at our house.